Welcome to the Philippine Scouts Heritage Society website!





The site is intended to help support the mission of preserving the history, heritage and legacy of the Philippine Scouts for present and future generations. Please explore the site, and learn more about the Philippine Scouts.

If you have questions about the organization, or would like to share your story, please email or post a message to our message board.

If you have questions concerning veterans' benefits, go to our Veterans Affairs & Benefits page in our newly structured Resources page for links to the Department of Veterans Affairs and the U.S. Embassy in Manila.

 

"The Philippine Scout Heritage Society was formed to preserve their distinguished history. Unless the sons, daughters, grandchildren, friends and associates take a positive and active role as members of the Philippine Scouts Heritage Society, the heroic legacy of these elite Filipinos will die. As an old soldier waiting for final roll call, I urge you to remember this."

~Brig. Gen. Royal Reynolds, Jr., Co-Founder & First PSHS President

Recently Updated...
Check Out Our 30th Reunion Lineup!
Now that the reunion is drawing near, we are proud to present the 30th Reunion Program of Events. We have a spectacular lineup of guest speakers, meet & greets, and more! You don't want to miss it.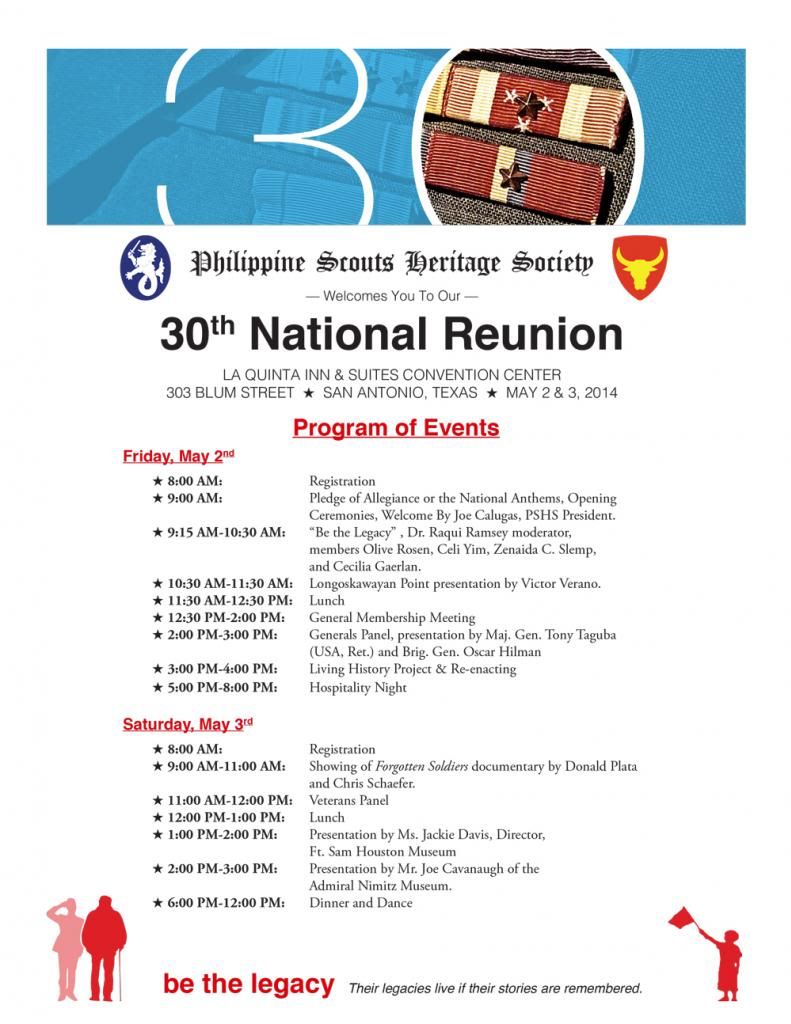 While you're in the city, please take a look at the San Antonio Official Travel & Leisure Guide 2013 by clicking here.
We will also have a team of volunteer oral history interviewers from the Nimitz Education and Research Center, National Museum of the Pacific War. They'll interview veterans and collect stories about resisting and then defeating the Japanese in the Philippines. For more information on the National Museum of the Pacific War, please see the brochure below:
Forgotten Soldiers: Now Available on DVD!
Get yours today. Visit http://www.ww2scouts.com/
2013 PSHS 29th National Annual Reunion
April 12 - 13, 2013 in Tacoma, Washington
29th PSHS national reunion at the La Quinta Inn & Suites in Tacoma, WA was a blast. If you missed it, check out our 29th Annual Reunion page for Lt. Col. Al Cosio's riveting speech, pictures, videos and more.
Here's an excerpt of the News-Tribune article on the reunion.
(The News-Tribune, 04/14/13) Zenaida Crisostomo Slemp of Puyallup joined her father's military heritage organization years after his death. Something called out to her, telling her it was time to learn more about his past.
She knew her father, Serafin Crisostomo, survived as a prisoner of war of the Japanese after fighting overwhelming odds with the U.S. Army's Philippine Scouts. Her grandfather fought there, too.
"I needed to honor my father, to keep his legacy going," she said.
Read more...
_____________
Some previous reunions:
Photo Gallery
Our photo gallery includes a number of historical photos and photos from PSHS reunions.
Mount Samat Memorial
The following photos were taken by Joe Calugas and include a panel depicting Sgt. Jose Calugas, Sr. during the engagement for which he was awarded the Medal of Honor. (The monument has him manning a machine gun, rather than an artillery piece.)
The Philippine Scouts
by Chris Schaefer
These were General MacArthur's soldiers—the guys who fought America's first battle of World War II. The Philippine Division. Probably the best trained and possibly the best prepared U.S. Army division at the outset of that war.
But they weren't farm boys from Kansas and California, or Italian-Americans from New Jersey as depicted in the black and white movies made during and after the war years. They were mostly Filipinos serving as enlisted soldiers in United States Army units commanded by American officers. They were special men in special units, officially designated "Philippine Scouts." At the beginning of World War II, General Douglas MacArthur's U.S. Army Forces in the Far East, spearheaded by the Philippine Division, were mostly Filipinos.
Poems
» To the Philippine Scouts by 1st Lt. Henry Lee
» Bataan by Mallie Wilson Farrell
» Bataan Falls! by Don Blanding
26th Cavalry Re-enactor
USAFFE defenders of Bataan and Corregidor
Ft. MacArthur, San Pedro, CA.
Buhay Ng Kasaysayan (BNK) re-enacting the USAFFE defenders of Bataan and Corregidor last May 6, 2007.
Re-enactors
These photos are by Philip Garcia and were originally posted on Victor Verano's reenactors website.
Last modified: 19-Apr-2014
---